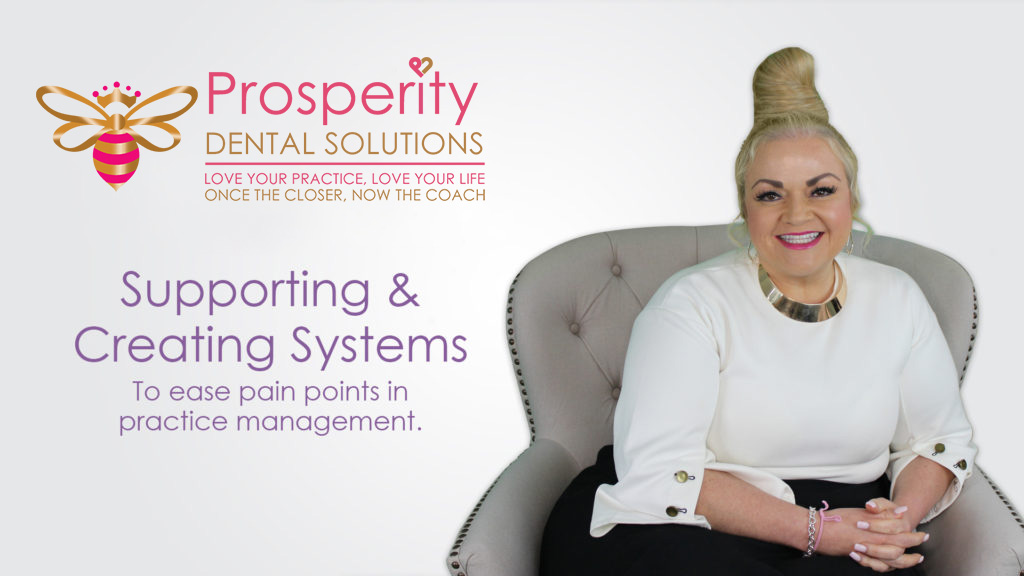 Elite Coaching For Your Practice
Coaching begins with understanding the vision you have for your practice. A vision needs to be known in order to be adopted by your team and put into motion by everyone. The Prosperity Dental Solutions team can help you create a vision growth Blueprint™ for your practice so your entire team has a goal to work towards.
Our comprehensive coaching and consulting program is designed to meet your specific needs as a practice. We help you implement systems and training for your team in order to achieve your goals. Our onsite integrators will give your team a level of support that will ensure they're prepared to perform at a high level. Your hands-on appointed coach will be readily available to lead your practice to success.
We offer 2 tiers of coaching that we tailor to your specific needs. Tier 1 offers a condensed version of support and focuses on the main aspects dental practices need help with. Tier 2 is a more integrated option that provides full, well-rounded support for your practice.
Tier 1 – Beginning Prosperity Coaching Plan inclusive of the following specialty services:
Practice/Team Onsite Observation & Assessment. 1 day with Jennifer

Prosperity Treatment Plan (tailored to your practice's needs)

1-2 Days Per Month In-Office Support

Learn How to Create the Environment to Have a Closing Percentage of 98% of All Treatment Diagnosed

New Hire Assistance, Employment Agreement & Training

Employee Expectation Outlines, Job Roles, Job Outlines and Agreements (Practice Specific), Checklists, Training & Supportive Documents

Hands-On Dept &/or Team Training & Support
Tier 2 – The Prosperous Coaching Plan inclusive of the following specialty services:
Practice/Team Onsite Observation & Assessment

Prosperity Treatment Plan (tailored to your practice's needs)

Prosperity Culture & Vision Setting Onsite Workshop with Jennifer

3-4 Days Per Month In-Office Support

Learn How to Create the Environment to Have a Closing Percentage of 98% of All Treatment Diagnosed

Placeholder Services, Transition & Training

New Hire Assistance, Employment Agreement & Training

Employee Expectation Outlines, Job Roles, Job Outlines and Agreements (Practice Specific), Checklists, Training & Supportive Documents

Hands-On Dept &/or Team Training & Support

Overdue Insurance Claim Clean-Up, Transition & Training of Key Employee

Overdue Patient Accounts Services; Auditing of Patient Accounts, Sending Overdue Patient Accounts Statements, Transition & Training

Predictive Index Assessment and Personnel Integration

Prosperous Annual Planning Team Workshop